Sr. Girls Volleyball
Sr Girls Volleyball Tournament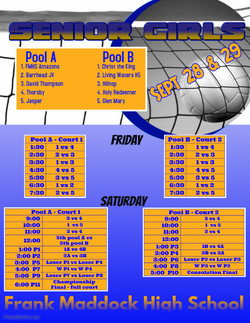 Upcoming Season Schedule
Frank Maddock High School
Girls Volleyball
Training Session
*note any athletes wanting to tryout need to be at the training camp on Sept. 1st
Thurs Sept 1 3:30-5:30
 Tryouts
Tues and Thurs Sept 6 & 8th
3:30-5:30 pm
All sessions at Frank Maddock gym
*Please contact Mrs. Hutchinson at deanne.hutchinson@wrsd.ca  if you have any questions. See you at the gym!
Senior Girls Volleyball Update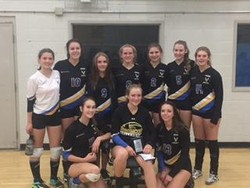 FMHS Senior Girls Volleyball team won a silver at West Central tourney on Sept 15/16 & a bronze medal at our home tourney Sept 29/30th.
We also finished top 8/20 at tourney at Augustana University Sept 8/9th. 

October 13/14 we are at St . Joseph's HS in Red Deer & Oct 20/21 in Mayerthorpe.