School Fees
School Fees 2020/2021
2019/2020 Student Fees
FMHS does not charge school fees for textbooks, lockers and core course instructional supplies as per Bill 1.  As such, there is no longer a WRSD fee of $100 and a School Activity Fee of $50 as there was in 2016/17.
The school does charge fees for curricular (complementary) courses, field trips, extracurricular activities, student union and parking.  The fees are important to providing materials and opportunites that the school could not otherwise offer.  These fees can be viewed on the student fee schedule.
School Fees will be attached for the year in September.  If a student changes a term 2 course we will do a fee correction and refund if needed.
Term 1 fees and current season extrcurricular are due October 15, 2019
Term 2 fees, extracurricular, commencement and yearbook fees are due Feb 28, 2020
$100 Self-directed learning (SDL) course fee due by payment or post-dated cheque before course material handed out
Fees can be paid online or at the office by cash, cheque or debit
Families experiencing financial difficulties can submit an application to waive fees by filling out a Fee Waiver form and submit it to the office.  Parents can also meet with or call Mrs. Cloke to set up a payment plan
Please call us if you have any questions as we would like to work with families to manage payments that support student programming
Parents can now pay with: School Cash ONLINE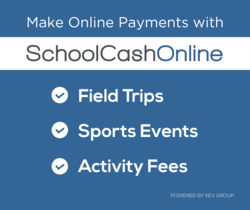 School Cash Online 
To make paying school fees easier, Wild Rose School Division is now accepting online payments. School Cash Online allows parents and community members to pay school-related fees online safely, quickly and easily. With School Cash Online, you can purchase items like sports team fees, lunches and field trips.
How it Works?

School Cash Online puts all of the school fees available for your student(s) online to purchase. You can have students in different schools and choose to pay fees online through credit card, eCheck and myWallet.
 What is School Cash Online? Click here to find out
 Click Here to register
 For more information : School Cash info
Fees--where does the money go?
Curricular (complementary) course fees:
consumable materials such as wood for Construction, food for Foods class and metal for Fabrication class
Student's Union
Activities that promote a sense of belonging and well-being in the school
Examples include Birthday Wall and recognition, Theme Days such as Pyjama Day, Student Activities such as Pi Day and prizes
Students wishing to have input on activies can join Student's Union
Field Trips
bussing
entrance or activity fees (such as ski passes or theatre tickets)
partial substitute teacher cost