School Fees
2018/19 Student Fees
FMHS does not charge school fees for textbooks, lockers and core course instructional supplies as per Bill 1.  As such, there is no longer a WRSD fee of $100 and a School Activity Fee of $50 as there was in 2016/17.
The school does charge fees for curricular (complementary) courses, field trips, extracurricular activities, student union and parking.  The fees are important to providing materials and opportunites that the school could not otherwise offer.  These fees can be viewed on the student fee schedule.
School Fees will be attached for the year in September.  If a student changes a term 2 course we will do a fee correction and refund if needed.
Term 1 fees and current season extrcurricular are due October 15, 2019
Term 2 fees, extracurricular, commencement and yearbook fees are due Feb 28, 2020
$100 Self-directed learning (SDL) course fee due by payment or post-dated cheque before course material handed out
Fees can be paid online or at the office by cash, cheque or debit
Families experiencing financial difficulties can submit an application to waive fees by filling out a Fee Waiver form and submit it to the office.  Parents can also meet with or call Mrs. Cloke to set up a payment plan
Please call us if you have any questions as we would like to work with families to manage payments that support student programming
Parents can now pay with: School Cash ONLINE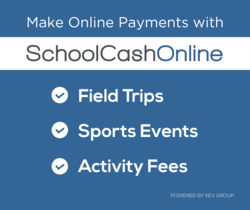 School Cash Online 
To make paying school fees easier, Wild Rose School Division is now accepting online payments. School Cash Online allows parents and community members to pay school-related fees online safely, quickly and easily. With School Cash Online, you can purchase items like sports team fees, lunches and field trips.
How it Works?

School Cash Online puts all of the school fees available for your student(s) online to purchase. You can have students in different schools and choose to pay fees online through credit card, eCheck and myWallet.
 What is School Cash Online? Click here to find out
 Click Here to register
 For more information : School Cash info
Student Parking/Fee Information
FMHS believes students should have fair access to student parking in a maintained and safe parking lot.  As such, the following are required for student parking eligibility:
Student parking fee is $25 per semester or $45 for the full year
Parking pass eligibility is determined by draw system

Priority goes to grade 12s when tickets are drawn, then to grade 11 students 
The first draw will be September 7th, 2018; Deadline to complete paperwork and pay fees to acquire pass is September 14, 2018
Students should keep their draw ticket until the next draw in the event a second draw occurs shortly after
Draws will occur throughout the year, particularly at the beginning of semester 2 so watch for announcements on new draws
Original draw ticket is required--photo is not accepted

Parking spots are not assigned but a parking pass is required to park in student parking lot
Students must provide a valid driver's licence, licence plate, vehicle make and model and sign the Parking Agreement Form
Vehicles must be operated in a safe and respectful manner in order to maintain parking privilege 
Sharing parking pass is not allowed
Students receiving the highest grade averages in their courses the previous year will be eligible for north parking lot access 
All school fees on the date of receiving the parking pass must be paid in order to be eligible. Complementary course, student's union, commencement and extra-curricular fees are prioritized over parking fee--money paid will first go to these fees, then to parking
Fees deadlines must be met in order to maintain eligibility for parking pass (see Mrs. Cloke for payment plan options)
Listen to announcements for the date of parking lot pass enforcement 
Violators may be warned, ticketed (Town of Drayton Valley parking bylaw) or towed
Fees--where does the money go?
Curricular (complementary) course fees:
consumable materials such as wood for Construction, food for Foods class and metal for Fabrication class
Student's Union
Activities that promote a sense of belonging and well-being in the school
Examples include Birthday Wall and recognition, Theme Days such as Pyjama Day, Student Activities such as Pi Day and prizes
Students wishing to have input on activies can join Student's Union
Student Parking:
purchase of more garbage cans that are animal-proof
install lighting to discourage loitering
paint stalls 
possibly install gates to prevent loitering
signage that clearly lays out who can use it and makes enforcement of trespassing easier
garbage clean up
general maintenance (future repaving and dividers)
Field Trips
bussing
entrance or activity fees (such as ski passes or theatre tickets)
partial substitute teacher cost