Grad Information
Grade 12 students and parents,
On Tuesday, admin along with Commencement and Evening program organizers met with grade 12 students to address concerns brought forward in a petition.
The main concern brought forward was the May 24th Commencement date.  We are aware that there is a preference for grad at the end of June, however careful consideration was given to the date selection and due to the last week of June being a pivotal time needed to best serve the needs of all FMHS students, both in the current and coming year, Commencement will remain on May 24, 2019.  
Parents and students have input into the date and format of the Evening Program, and based on feedback from Evening Program Parent Meeting and follow-up Grade 12 student meetings in October, the two-day format with the Evening Program following Commencement was decided and will be on May 25, 2019.
There will be opportunity for input in the planning of the Evening Program starting in February. The next grade 12 student meeting to begin choosing an executive and brainstorming ideas for themes, colors, etc will be February 4, 2019.  Grad Photos will be that week also; instructions on how to sign up for a grad photo sitting will be sent out in January.
During the meeting with students this week, students were invited to email or make an appointment to meet if they have concerns or questions or to ensure they have accurate information.  We invite parents to do the same; my email is shelly.cloke@wrsd.ca or you can contact 780-542-4401 to make an appointment.  
Graduation is an important event to students, parents, the school and community. While challenging to choose a format and date that will work for everyone, FMHS strives to best serve our diverse learning community.
Sincerely,


Shelly Cloke
Principal
Frank Maddock High School
(780) 542-4401(780) 542-3407
school website:  www.fmhigh.wrsd.ca
January Exam Schedule
Click Here to see the exam schedule for January 2019
Exam Bank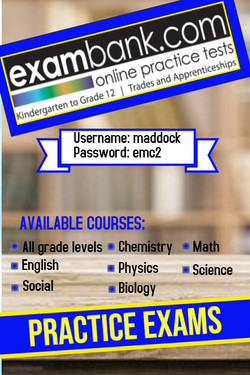 Looking for teacher-approved review material? ExamBank has been bringing students the best in online practice tests for over 15 years! Thousands of Canadian students sign in to practice region-specific tests every day. Discover the power of ExamBank!
Click Here For the username and password. 
Follow us on Social Media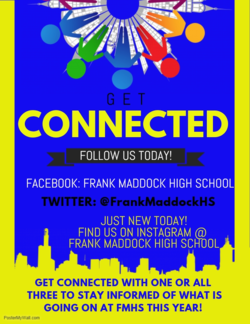 Grade 9 Information
Grade 9 Master Timetable 2018-2019
FMHS Student Supply List
The supply list is general;there may be some additional requirements, depending on the section and teacher but the attached list covers most supplies that will be needed.
Because students do make timetable changes, particularly in the first days of the semester, is may be wise to wait on purchases if any changes are anticipated.
Safe Arrival information letter
For more information on the new attendance reporting system.
Scholarship Link

Grade 12 Students - Find and apply for Scholarships.  ScholarTree is 100% free to students, and it streamlines the scholarship process for students, create a simple profile and based on the information they provide, ScholarTree matches them to scholarships they qualify for.  
Blue & Gold Society
Next Meeting:  November 22, 2018 @ 6:00pm
Location:  FMHS Learning Commons
Click here to learn more about the Blue & Gold Society.
Division News