Tutorial This Week:
The Tutorial schedule will go back to what it has been for the most part:
The same:
The Max and quiet room will once again be open
The Mezzanine and front lobby will once again be open to grade 12 students
Different:
more teachers will be available in classrooms since all core subject teachers are not collaborating this week
Tutorial Schedule for Oct 9-12  (changes from normal schedule are noted in red)
Please see Powerschool Flex session for availability
Exam Bank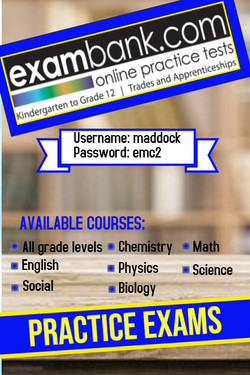 Looking for teacher-approved review material? ExamBank has been bringing students the best in online practice tests for over 15 years! Thousands of Canadian students sign in to practice region-specific tests every day. Discover the power of ExamBank!
Click Here For the username and password. 
Advisory Week!
This week Tutorial block at the end of the day will be a little bit different for grade 10-12 students because of Advisory week:
What's different?
All teachers 'available' in their classrooms

Math, English, Social Studies and Science teachers will not be collaborating so they should be available most days in their classrooms; log in to Powerschool Flex Session to see availability and to sign up
CTS and Fine Arts teachers will be available in their classrooms 

The Max and Learning Commons will NOT be available since CTS and Fine Arts teachers are in their classrooms
Grade 10-12 students are required to meet with their Advisory teacher at some point in the week--please see your Advisory teacher on Monday at the beginning of Tutorial for more information
What's the same?
grade 10-12 students can still sign up for Tutorial with the subject area they need to see but be aware that all teachers will be having individual meetings with their Advisory students throughout the week so availability for support will vary
Why the changes?
This week is Advisory Week and it replaces the 20 minute Advisory we used to have every Monday for 20 minutes
Instead of meeting as a group for Advisory, we found individual or group meetings were the most effective way to connect with students
What happens in the individual meeting with my Advisory teacher?
You and your Advisory teacher will go over how you are doing; your classes, grades and attendance so be prepared to log in to Powerschool
A discussion of semester and future goals
A discussion how you use Tutorial
Advisory teacher may have you fill in a Learning Profile or have you assess yourself as a learning using the learning profile and use it as the basis for discussion
Advisory teacher may connect you to resources if needed
Advisory teacher will use the information gained in the interview and other sources to determine a Learning Strategies mark
Grade 9 Advisory Week Schedule
Monday--regular assigned Tutorial   
Tuesday--regular assigned Tutorial
Wednesday--presentation in the Max   
Thursday--presentation in the Max
Friday--Advisory (meet with Advisory teacher you had at the beginning of the year)
Follow us on Social Media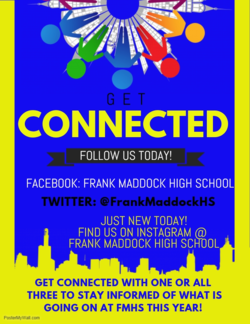 Grade 9 Information
Grade 9 Master Timetable 2018-2019
FMHS Student Supply List
The supply list is general;there may be some additional requirements, depending on the section and teacher but the attached list covers most supplies that will be needed.
Because students do make timetable changes, particularly in the first days of the semester, is may be wise to wait on purchases if any changes are anticipated.
Safe Arrival information letter
For more information on the new attendance reporting system.
Scholarship Link

Grade 12 Students - Find and apply for Scholarships.  ScholarTree is 100% free to students, and it streamlines the scholarship process for students, create a simple profile and based on the information they provide, ScholarTree matches them to scholarships they qualify for.  
Blue & Gold Society
Next Meeting:  Sept 25, 2018 @ 5:30pm
Location:  FMHS Learning Commons
Click here to learn more about the Blue & Gold Society.
Division News